Dorade in the salt crust - or: When the cricket falls into the water
The best man called today at noon full of energy and asked if we do not want to grill. The weather seemed perfect: nice and warm, hardly any clouds in the sky - you just have to use this opportunity. At the same time he offered to drive past the wholesale market and look for a nice piece of meat or a fresh fish. Beaming with joy, he announced that he had gotten two splendid specimens of Doraden, freshly caught and real Kawenzmänner. And the latter is certainly not exaggerated. A total of 1.8 kg of fish looked out of the bag when I got home. And we are two, mind you. I usually expect a 300-400 g fish per person or a 800 g fish for two ...
So it was meant very well, so at least it was clear that there are no side dishes today. These gems just had to be eaten.
However, as we made our way home on the way home, we quickly decided on a cloudy sky and made our standard recipe for sea bream in salt crust. From any Metro shopping slumbered still a 5kg sea salt bag in my storage room, which was finally used. This is really dirt cheap and definitely worth buying for unexpected cases of fish-in-salt crust preparation. If you have the place. And this was not used in the last hard winter as road salt ...
So here is my recipe for the preparation of Dorade Royal in the salt crust .
Sufficient for
2
4 people!
2 big breams (about 800 g each), excepted but not deflowered
1 Organic lemon, washed and sliced ​​
1 Handful of fresh mixed herb stalks to taste (thyme, rosemary, mint, sage , Tarragon, oregano), washed and shaken dry
approx. 3-4 kg coarse sea salt
Preheat the oven to 250 ° C.
Rinse and rinse the dorades well under running tap water and then dab dry.
Add lemon slices and mixed herbs to the abdomen.
Lay a large baking sheet or the fat pan of the oven with aluminum foil and sprinkle about 1 cm thick with sea salt. Moisten the salt with a flower syringe with water and press lightly. Then place the fish on it.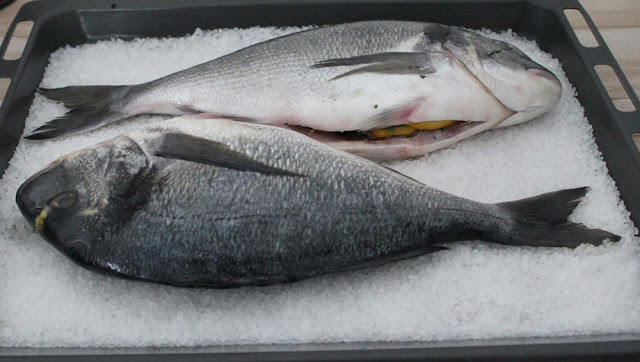 Cover the fish completely with a thick layer of sea salt. There really is nothing left to look out or shimmer through. Moisten the salt well and press it on.
Place the sheet on the middle rail in the preheated oven and bake for about 30 minutes. 20 minutes are enough for smaller fish.
Then remove from the oven and let the plate rest for about 5-10 minutes. This will make the salt crust easier to peel off.
With a knife or a small hammer, carefully tap the salt crust and lift it off, taking care that only the skin really sticks to it and not the filet and that there is no salt in it Meat comes into contact.Dispose of the filling and then gently lift the lower fillet from the lower side of the skin. Possibly. remove bones left hanging. Serve immediately.
We like to eat this delicious fish entirely pure, just with some fine olive oil. In that case I used my current favorite oil, a fruity-mild Cretan organic olive oil from a first-hand pressing of a small olive grower. It's so delicious, you can drink it pure. And it harmonises wonderfully with the fish.
If you prepare the dish then really for 4 and not only 2 people, fit as side dishes very well triplets or new potatoes as boiled potatoes and a few princess beans or young peas for which one needs no more than the good oil.
It rained then incidentally, when the fish was in the oven. And not too close. Insofar as everything was done correctly and enjoyed the favorite fish again super tender and juicy from the oven.
The whole works of course with other whole fish.
It is important that the filet is not directly with the salt comes into contact. If all goes well, the meat tastes very gentle to sea salt, lemon and herbs and is soft and delicate in consistency. It would be better to leave it in the oven a few minutes shorter than too long. The fish cooks under the hot crust for a few minutes. There are also various recipes in which you mix egg whites under the salt, or even eggs and flour for a salt dough. I think that's not necessary. Water and salt is enough and gives a wonderfully firm crust, which can be easily removed in pieces.
And do not forget to pack the garbage well and dispose of it directly, especially if for the next day 30 ° C predicted ...
hard-boiled maybe boil a bouillabaise again, with us the cat got the last meat shreds.